Many national parks have a No Dogs ground rule on trails. This rule has been applied in the Smoky Mountains since the 1930s and for good reasons.
Dogs are only allowed on specific grounds in the Smoky Mountains, mainly for the safety of hikers and wildlife. That doesn't mean you can't visit with your dog, though.
Dogs have access to two short but beautiful trails in the Smoky Mountains: Gatlinburg and the Oconaluftee River Trails. First, however, there are some rules to follow.
While enjoying these two trails, dogs can't be left unattended. All dogs have to be leashed up all the time, and the leash has to be six feet or shorter. Follow this article if you want to know how hiking with dogs in the smoky mountains goes!
Preparing Dogs to Hike in the Smoky Mountains
Any dog owner must be fully prepared for a hiking trip with their furry fellow. Plan well, pack lightly, and research in advance to make the adventurous trail hike enjoyable.
Packing
This is a list of hikers' necessities for a smooth hike with dogs. Packing correctly will ensure a safe and comfortable hike for both the hiker and the dog.
Canine First Aid Kit
Flea and tick sprays
Backpack
Leash or harness
Food and treats
Fresh water and extra water
Collapsible water bowl
Reflective jacket
In case of cold weather: Insulation; Insulated Jacket/fleece
In case of hot weather: Sun protection; cooling jacket
Safety bells and lights
Toys
Dog boots
Poop bags
Shelter: a camping tent, a quilt, and/or an mattress (if planning to camp)
Planning
Hiking can be challenging with dogs. Even an experienced dog owner might face a few hardships if the hike isn't planned beforehand. Here are a few pointers before hitting the trail.
Behavior Training
Dogs that go on hiking trips should get the proper training first. That way, they know how to behave well around other hikers and possibly wild animals.
They also need to be used to being on a leash

for a long time. The rules of the Smoky Mountains state that they'll always be leashed up in the trails.
On top of that, dogs should know how to stop when tired. For example, they can lay down or stop walking to show they need a break.
Train to Obey
Orders training is essential before hiking. The owners must train dogs to obey orders instantly. Clear commands, such as Leave and Stop, are lifesavers as dogs will be over-excited with all the new overwhelming scents and distractions.
Practice Carrying a Backpack
Certain dog breeds can carry backpacks, but the dog must be of an appropriate age, size, and fitness level to carry it.
If you want your dog to take some weight off your back, make sure to do a little research beforehand. Try to find a backpack that is a suitable size and weight for the dog breed.
Practice Wearing Boots
Dogs aren't used to covering their paws. As a result, they can have trouble walking with boots normally. But boots are needed (especially in the winter) to protect the dog's pads from snow, sharp rocks, thorns, or slipping.
So, prepare the dog for walking in boots before letting him wear them on the hike.
Test Ride
Take the dog to a dog park before going to the hike. This will test the dog's social and obedience skills. And to get an idea of what to consider before heading to the hike.
Where to Hike With Dogs in the Smoky Mountains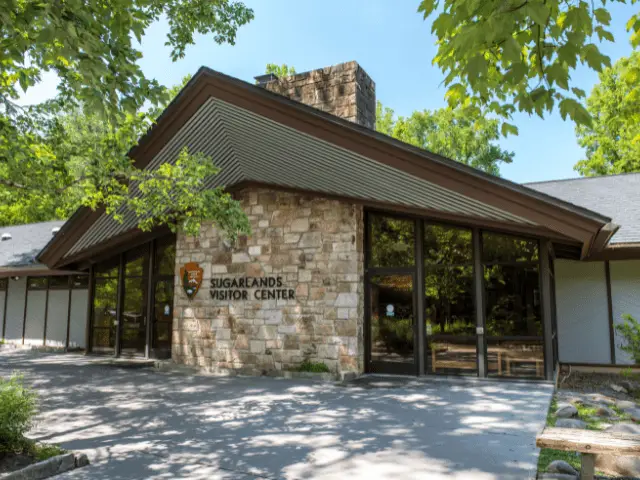 Dogs are permitted on only two trails in the smoky mountains: the Gatlinburg Trail and the Oconaluftee River Trail. They're allowed to enjoy these trails but must be on a leash.
If you're on the Tennessee side, there's the dog-friendly Gatlinburg Trail. The Gatlinburg Trail is a 4 feet wide, non-paved, natural surface trail. It's a 1.9-mile trail that starts at Sugarlands Visitor Center and ends at Gatlinburg.
The Oconaluftee River Trail is on the North Carolina side of the mountains. It's a dog-safe, 1.5 miles long trail. Along the banks of the Oconaluftee River, the course starts at the Oconaluftee Visitor Center and ends at the city of Cherokee.
There's also the Cades Cove Loop Road. This is an 11 mile drive around Cades Cove. Dogs are not allowed on the roads but are permitted to come along in your drive.
Why Are Dogs Banned From Most Smoky Mountains Trails?
Dogs are allowed anywhere in the Smoky Mountains as long as they're in cars. For safety reasons, they're not allowed on the roadways or trails.
Predators
Dogs are predators. They can be quickly intrigued to chase and catch any type of wildlife animal. This can cause harm to the dog or the wild animal.
On the other hand, dogs can fall prey to other predators. For example, deer, elks, and bears roam the smoky mountains and forests. If dogs dart, chase, or bark, it might trigger the wild animal to attack. This might put the hiker and dog at risk.
Poisoning Risk
Several natural elements can be a poisoning risk to dogs, most commonly insects and bugs

. Some of these can be poisonous to dogs or can transmit diseases.
There are also a lot of plants that can be toxic to dogs. If dogs eat, sniff, or bite into any plant out of curiosity, it may harm them.
Also, Beautiful Streams, rivers, and lakes run along the Smoky Mountain trails.
Unfortunately, drinking untreated water poses a risk of getting contaminated by parasites, toxic chemicals, or bacteria. This may cause the dogs to get sick.
Territorial Behavior
Dogs are territorial. They mark their territory to keep their competitors away, and the scent they leave can be aggravating to other wild animals in the trails.
Risk of Injury
Trail ground can be wet, sharp, or hot. This can harm or cut dogs' pads.
Dogs' behavior, like digging or scratching, can be invasive to the wildlife. It might also cause disease transition to the wildlife animals or poisoning risk to the dog.
It's not safe for dogs to run loose with no leash. There are steep hills, slippery grounds, and harsh slopes that can cause injuries.
Social Behavior
Uncontrolled dogs can cause disruption to other hikers. If hikers are frightened by dogs, it will be dangerous to both of them.
Conclusion
Adventurous hikers who prefer to enjoy the outdoors with their dogs won't have to skip the Smoky Mountain trails. They get to hike and explore the Gatlinburg Trail and the Oconaluftee River Trail.
Or, skip the hiking and drive through the sights of Cades Cove Loop Road. You can spend the best time at Smoky Mountain safely by following the rules and regulations.