When you picture yourself on your favorite hike, what type of weather comes to mind? Sunny summer heat? Blue jay skies? Still, placid air? People often think that hiking is most enjoyable when the world around them is calm, warm, and peaceful. But there's no good reason that this needs to be true.
One of the great joys of hiking is experiencing trails that you are familiar with in different conditions. The same hike in the arid summer heat can feel entirely different in the frigid winter cold. This is also true of a trail in the clear, open sky versus the cloudy, overcast rain.
Hiking a trail in the rain can be both challenging and exhilarating. It can open your eyes to a hidden beauty that you would never see in the peaceable warmth of a pleasant day. It is important that you be prepared for whatever conditions you are going to hike in. Rainy days require their own precautions that are distinctly different from sunny, snowy days or windy days.
As the old adage says: Better safe than sorry.
This page contains affiliate links. If you use these links to buy something I may earn a commission. Thanks.
Is Hiking in the Rain Safe?
The main risk with rain is developing hypothermia due to rapid loss of body from wet clothing. As with most things, the context of your situation is essential, and different hiking trails under different conditions will require different planning. If you are planning a long hike, or even a multiple day (or week) excursion, then it is crucial that you plan ahead and know what you are dealing with.
A rainy day where you can't retire to the warmth of your car at the end could be fatal. If you are setting out on a brief one to three-mile hike on flat terrain, you won't need to be as concerned with perfect preparedness, but it's always good to practice preparing for the worst-case scenario.
Whatever length hike you are planning on, it is important to be well informed and take precautions that will result in your hike being more comfortable and enjoyable.
Essential Attire for Rainy Hikes
Any hiker worth his blisters will tell you that one of the most important things to remember is COTTON KILLS. Cotton is the most common and popular fabric in the world; this is often for good reason. In your typical, everyday attire cotton is a soft and breathable fabric that is cheaply produced.
However, when it comes to hiking, cotton has properties that become unpleasant and even hazardous when combined with adverse weather conditions. The main thing to be aware of is that cotton absorbs water like a sponge. On a rainy day, your cotton clothing will become water-logged faster than you can blink.
The problem here is that wet clothing against your skin saps heat faster than cold air. This means that it would be safer to be naked in the frigid rain than to be wearing cotton clothing.
Upper Body
Fortunately, this is easily avoidable by choosing wicking fabrics that will keep you dry and warm in the rain. Layering your clothing is essential. Each layer plays a different role in protecting you from the natural elements.
Base Layer
Your base layer will be the layer of clothing that is directly touching your skin. For this layer, you will want a wicking fabric, which means the fabric pulls moisture away from the body keeping you dry. The most common type of wicking fabric is polyester, so look for a base layer made of this. The crème of the crop for base layers is omni-heat.
This is a design similar to a survival blanket: the inside of the cloth will have tiny tin-like squares which will reflect your body's heat directly back to you.
Mid-Layer
The goal of the mid-layer is to provide insulation, so you will want something thick that keeps you warm. For the rain, polyester fleece or synthetic jackets are the way to go. These materials will provide insulative heat while also remaining functional when wet. A bonus of fleece is that it is breathable and will keep you from overheating (which is a possibility even in the rain).
Outer Layer
The outer layer, or shell, is the layer that will shield you and repel the rain. The goal of the shell is to keep as much water out as possible, so you will want to find something that is completely water-resistant. Microfiber raincoats are a great option as they are treated to prevent any water absorption.
Nylon and polyester raincoats are cheaper backup options, but are only beneficial in light rain, in heavy rain this material will still leave you wet.
Lower Body
When it comes to your lower body you will simply want a pair of water-resistant pants. Nylon is a common water-resistant material that won't break the bank. If you are willing to spend a little extra, a pair of Mountain Hardware Waterproof Pants will keep you dry in the most extreme circumstances. To keep extra warm, slip on a pair of sweatpants underneath your rain pants.
Footwear
Footwear is one of the most important things to consider when hiking, after all, your feet will be making contact with the trail and supporting you the whole way. In the rain, even a common, heavily trafficked trail can become dangerous. This is because mud can be as slick as ice, and a lot messier. You will want shoes that are not only water-resistant but also have a firm grip to keep you from slipping.
If you are really serious, you can buy expensive hyper-niche hiking shoes designed to keep out any and all water. However, this isn't practical for everyone. For a casual hiker, faux leather is a common, animal-friendly material boots are made of that is effective in keeping the rain out.
Our Favorite Vegan Friendly Hiking Boots
You can even buy a cheap water-proofing spray for any shoe and coat them a few days before you plan to hike. But again, make sure your shoes have good grips on the bottom, a rainy day is no time to hike in your favorite pair of skate shoes. Under your shoes you're going to want a good pair of socks.
Look for something thick made with moisture wicking materials such as vegan friendly acrylic-wool and polyester. Investing in a set of high-quality socks is worth it to ensure your feet stay dry and warm on a rainy hike.
Non-Essentials That are Nice to Have for Hiking in the Rain
There are some things that aren't strictly necessary for hiking in the rain, but they can keep you comfortable and thus make the experience more enjoyable. A pair of waterproof gloves can keep your hands nice and dry on a stormy day. This may not be pertinent to survival, but it'll keep you from the unpleasant sensation of numb hands.
In addition to this, you could bring along some motion-activated hand warming packets. Just give these a strong shake and tuck them into your gloves and socks to keep your hands and feet warm. You may also consider wearing a rain hat. These are wide brimmed, water-proofed hats that are designed to divert the path of the rain so that it doesn't land directly on your body.
Lastly, a cheap but effective item to bring with you on any hike is a small box of trash bags. Trash bags can be used as a water-resistant cover for your pack and in a bind they can even be punctured and worn like a shirt over your clothes. Not to mention their effectiveness in picking up trash and aiding you in the "leave-no-trace" goal every adventurer should aspire to.
The Mental Game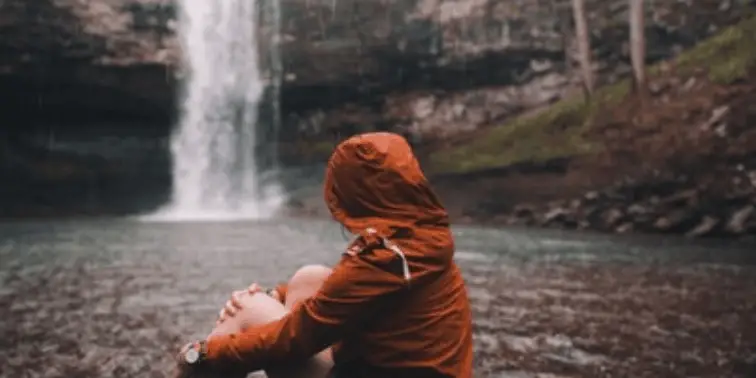 In less-than-ideal conditions, you need to keep a positive attitude in order to fully appreciate the beauty of a hike. If all you can think about is how wet and miserable you are, you aren't going to have very much fun and it'll end up being a negative experience. Therefore, comfort is important; wear clothes that you genuinely enjoy wearing.
Sometimes this may even mean opting for rain-ready attire that is vibrant and full of colors that please you. Something as simple as the color of your clothing can give you a little mental kick that lets you see the brighter side of the experience. Another useful tip for staying positive is packing your favorite nutritious snack.
A whole article could be devoted to picking the best snack for a hike, but for the sake of brevity, pick a snack that is protein-rich, non-processed, and pleasant to eat. When the grumbles descend on you like the unending rain, a tasty, nutrient-rich snack is a mood lifter.
When to Quit
Hiking is no time to be a hero. If weather conditions are exceptionally bad you should try again another day. If you are ever in the middle of a hike and feel that things are getting out of control, or feel you haven't prepared well, it is always better to call it a day than to press into a situation that might harm you.
Always check local forest service reports to see trail and weather conditions and decide what is best for you.
Enjoy!
In the end, the goal of hiking is to have fun and enjoy the beautiful natural world that surrounds you. Hiking in the rain can be a unique and rewarding experience. You may see the landscape in a new light and develop a greater appreciation for this wild world we live in. However, make sure you know the basics for staying warm and dry, and always have a plan before venturing out on your own.