Jen and I had the opportunity to hike the Dukes Creek Hiking Trail while we were 'social distancing' during the Coronavirus Outbreak. What an amazing trail! The waterfalls and views along the trail are simply amazing and it's a trail that is pretty accessible to most hiking abilities.
Before we get into the full breakdown, let's go over some quick facts:
Dukes Creek Hiking Trail Quick Facts:
Where: Just outside the city of Helen in north Georgia
Hours: Sunrise to Sunset – Open Year Round
Cost: It's a $4 fee that is paid by dropping your cash (or a check) into an envelope so bring one dollar bills.
Parking: Trail has it's own lot that holds around 20 cars. We were the only car in the lot when we parked today!
Dogs: Yes! Just keep your pups on a leash.
Trail Length: 2.2 miles (1.1 mile out and back)
Difficulty: Easy to Moderate – The trail is wide and well maintained. There are a few fully finished wood platforms on parts of the trail including at the end. The reason I'm saying a bit moderate is it is a pretty steady incline on the way back.
Location & Contact:
1699 Richard Russell Hwy
Helen, GA
Dukes Creek Falls Info on USDA Website
---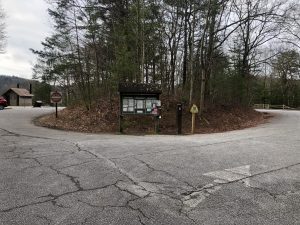 We arrived at the trail around 8 o'clock in the morning. We were the only car in the lot when we arrived.
Granted it was a Wednesday morning in the midst of the Coronavirus. We actually got this hike in just a few days before they started shutting down the parks here in Georgia.
There were a few more cars there when we left as we passed a few families on our way back up. It always makes Jen happy to see other people on the trail. Apparently, bears won't attack if there are multiple groups of people on a trail??
There is a $4 fee to park in the lot, which is on a bit of an honor system by dropping your cash in an envelope by the entrance. There is a restroom at the lot that was nothing special, but was clean and stocked.
Just a tenth of a mile into the trail you'll come to an 'observation deck'. A wood platform where you can see the falls in the distance. It's a great view and totally worth doing just itself, especially if you have someone in your party who may not be comfortable hiking all the way down to the bottom.
The trail itself is just over a mile to the bottom. It's three or four switchbacks that maintain a nice steady decline all the way down the side of the mountain. There are no spots that are overly steep.
The trail itself is well maintained, wide, and either packed dirt, wood planks or gravel. I don't even recall having to step over many roots on the way. A good pair of hybrid shoes would be more than sufficient to handle this trail. You could honestly even get by with a good pair of tennis shoes.
One of the best payoffs you can ask of any trail awaits you once you reach the bottom of the gorge and the end of trail. There is a large, multi-deck platform setup at the bottom of a gorgeous waterfall. When we reached the bottom the sun was just beginning to crest over the mountain and peer down into the gorge.
Absolutely stunning!
While we don't "rate" trails, we highly recommend checking out the Dukes Creek Hiking Trail if you're ever in north Georgia. Also, if you've never been to Helen, GA which is just down the street you'll be in for a nice little bonus. Helen is a small town that is a replica of a German village.
Unfortunately, we didn't get the full experience on this trip, we just drove through (coronavirus and all), but it looks awesome. Tons of small shops and places to eat.
---
More Trails Nearby:
Anna Ruby Falls – This trail is only a few minutes drive from Dukes Creek Trail. It's a short out and back (less than a mile) out to another amazing waterfall! Anna Ruby Falls is one of, if not the most popular trail in the area.
Ravens Cliff – Less than a mile up the road. We didn't get a chance to hike this one ourselves, but we heard really good things.