Jen and I love to hike so much that nearby hiking trails have even influenced where we've chosen to live. However, I don't think either of us enjoy hiking as much as our 16 year beagle/fox hound rescue, Chompers.
Chompers has been on hundreds of hikes and is just as excited for the next as she was for the first one. Mia, our other rescue dog, is now 11 which by most standards also qualifies her to be a senior dog (as much as that thought breaks Jen's heart).
We still go for hikes with our girls as often as we always have, but with two older dogs, we are a little more careful about where, when and how far we go for hikes with them.
If you have an older dog like ours, here is our best advice for enjoying the trail with them.
Keep Your Hikes Shorter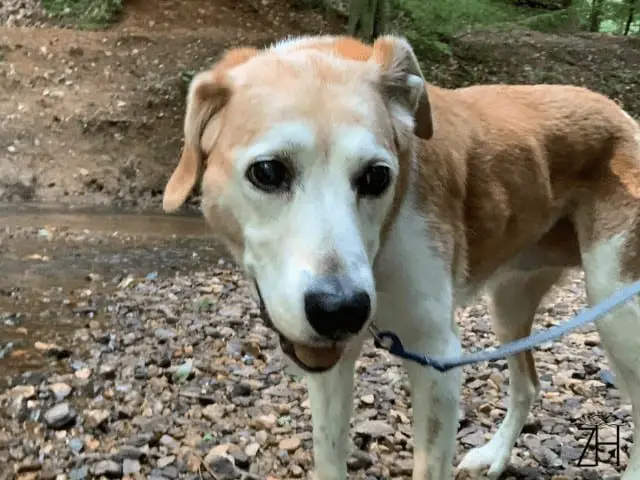 Years ago we wouldn't think twice about going on a 3 or 4 hour hike. We would gear up, grab leashes and away we'd go.
That just isn't the case anymore, but that doesn't mean we can't go hiking at all, we just keep our hikes shorter.
We primarily take our queues from Chompers and how she is doing. If she is leading the pack and full steam ahead then we'll continue on with her. When she starts to lag back and walk beside us, then we know it's time to start heading back to the car.
For us, depending on the day, the weather and the trail our hikes are generally somewhere between an 30 minutes and an hour.
I can't give you an exact 'how long' or 'how far' you can take your senior dog out for a hike. The most important thing is to know your dog, know what they are capable of and be very aware of what they are telling you with their body language.
When in doubt, cut it short! Even if we were planning on a short loop, if Chompers isn't having a good day we'll stop and turn around wherever we are.
Limit/Avoid Steep Inclines
Chompers can still put in a good amount of distance. On a good day, she'll get in a couple miles, no problem.
Where she really struggles now, as she has gotten older is on steep inclines. I can't say I blame her though, steep inclines take it out of me too!
Now that we're aware of this, we try to limit big inclines as much as possible. The easiest way to do this is to plan ahead. Do some research on AllTrails on the trail, or trails, you're planning on going on. Or, even better, if it's a local trail – go first without your pups and 'scout it out'.
By scouting out the trail in advance, you'll know how your dog will fair on the trail and maybe what sections to try to avoid.
Slow Your Pace
When you're hiking with an older dog, going for a hike doesn't also need to count as your own personal exercise.
Your dog shouldn't be trying to keep up their pace with you, in fact, it should be the exact opposite.
If your dog needs to slow it down, there is probably a good reason for it! Slow down. Let them sniff. Take a break if you need to. Also, like I just mentioned, sometimes you may have to cut a hike short if they seem to be a little low on energy that day.
Never try to force the pace, the time or the distance when your hiking with your dogs, especially a senior dog. It's just an absolute recipe for disaster.
Avoid the Midday Heat
You should ALWAYS be very mindful of the heat when hiking with dogs and even more so when hiking with an older dog.
The best way to avoid having your older dog out in the sun and the heat is to avoid the midday heat, especially in the summertime.
We like to get up early and start our hikes just before sunrise so we can catch the sun come up while we hike. Not only will this help you avoid the afternoon heat, but we find that it also helps us avoid the crowds and traffic.
The parking lot for our nearest (and favorite) hike can often times completely fill up after around 9:00. By getting started a little earlier we don't have to fight the traffic and Chompers gets to hike in the brisk morning air instead of a potential hot and humid afternoon.
If you're not an early riser, evenings can work just as well. If you're going to hike later in the day, just be mindful of your park's closing hours depending upon the time of the year.
Take Plenty of Water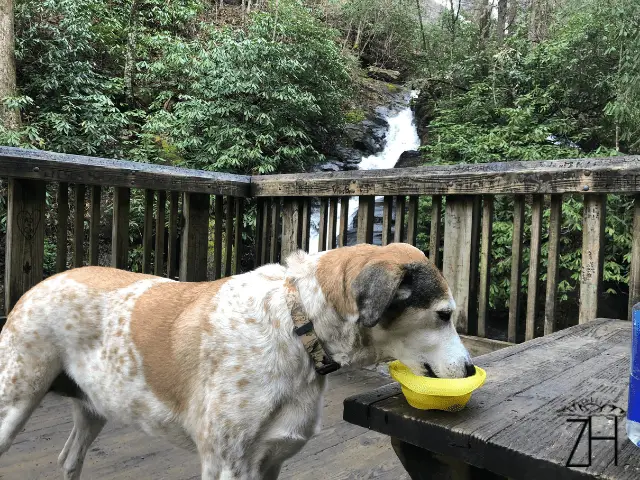 Even though you're hiking shorter distances and avoiding midday heat, make sure to bring plenty of water when hiking with your senior dog.
It's always better to have it and not need, then need it and not have it.
If you drive with your dogs to your hiking location, water will definitely be needed for the ride home too!
We highly recommend getting a collapsible bowl for your hikes. We keep one in our pack and one in the car. It makes getting your dogs water a million times easier.
Make it Fun!
Above all else, hiking with your older dog should be fun and enjoyable!
Whether you're hiking for an hour or for just 20 minutes, don't forget why you're doing it in the first place. For a chance to enjoy nature with your four legged friend.
Keep your hikes shorter, pay close attention to how they're handling the trail, take your time, avoid the heat and take plenty of water.
If you still have doubts or concerns, check with your vet!
We hope you are able to enjoy hikes with your older dog as much as we still do with Chompers (and Mia, just don't tell Jen she's a "senior" dog!)