When hiking with dogs, the challenge isn't really the trek. It's what to pack with you. You must be ready for any possible situation while you are out in nature. The very last thing you want is for your dog to get injured or for you to have to call someone in case of an emergency.
If you're a novice hiker or if it's been a while since you've gone on an adventure, packing for hiking with dogs can be tricky.
Why?
Dogs need some special attention that humans don't. 
Hiking with your pups is so much more exciting than without, but it is also a bit more complicated. So here are the tips that will help you get the right things ready for your upcoming hiking trip with your pet pooch!
This article contains affiliate links. If you make a purchase through one I may, at no extra cost to you, earn a commission.
Hiking Essentials for your Dog
Leash
It is very surprising to find that there are not as many dog leashes for hiking as you might think. Hiking as a family activity (which includes your dogs!) is getting more attention nowadays. When you go with your dog to enjoy nature, the last thing you want to consider is how to bring your dog along with you. 
Having a leash is really necessary, and there are several kinds of dog leashes you can choose out of all shapes, sizes, and colors. Running free on a trail is one option, but some dogs don't know how to behave if they are not on a leash and many (if not most) trails do not allow for off leash hiking.
In addition, the great outdoors can be intimidating for some dogs, which could be frightened by wild animals or by owners with different personalities than their own.
A leash allows you to keep your dog close to you and prevents him from getting into mischief in the woods.
In addition, it will help him avoid getting hurt or lost. Finally, it will also make other hikers feel more secure.
Collar or harness 
If you're going hiking with your dog, several dog collar and harness options are on the market. Collars and harnesses can both be used for the same purpose. The only distinction between the two is which option is more suitable for the type of hiking you are doing.
With so many dog breeds and sizes to choose from, it can be difficult to determine which hiking harness or collar is best for your pet. It's particularly difficult if you've never had a dog before. When selecting a hiking harness or collar, you'll want something that's not only strong and long-lasting but also comfortable for your pet.
A lot of dog owners like to take their dogs hiking with them, which is a fantastic opportunity for the two of you to bond.
However, there are a lot of dangers you'll have to worry about besides getting lost or falling over the side of a cliff — snakes, bees, insects, and larger animals are all possibilities. That's why it's important to get your pup a good dog collar or harness for hiking to help protect them in case of an emergency.
It's also extremely important to get a harness that fits your dog properly.
If a dog escapes from its leash mid-hike and runs into danger or gets spooked by something and won't return, that's a very scary situation to be in that you want to avoid at all costs.
Water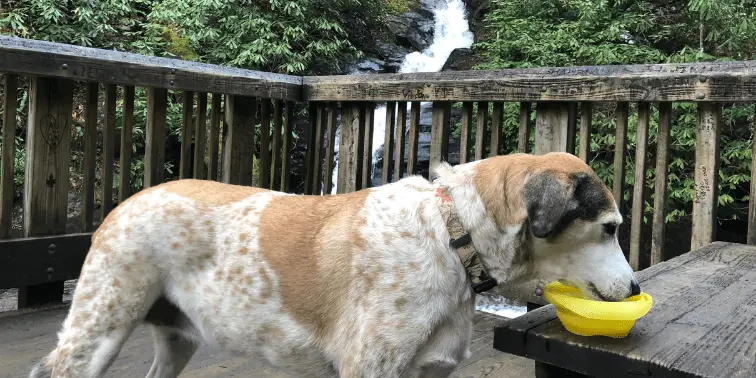 As a dog parent, you must know there are some really bad pet accidents when it comes to dogs and hiking. You need to prioritize bringing a water bottle for your dogs if you're going to be outdoors for a long period. While hiking, your dog needs to stay hydrated just like you.
The ever-changing temperature, elevation, and terrain all influence how much water your dog needs to drink. You can either give him water in a bowl or provide water from a container. Personally, I use a collapsible bowl and don't know how I ever managed without one.
You must avoid letting your dog drink water from standing water and ponds, as bacteria and parasites could be present and cause your dog to become sick. Bottom line, if you wouldn't drink water from a source in nature you shouldn't let your dog drink from it either.
Food or Treats 
If you plan on hiking with your dog, make sure you have enough food and water for the dog in case you have to extend your trek.
In addition, it's possible that your hiking trip may last longer than normal because of unpredictable weather or trail conditions. Therefore, it's always good to have dog food or snacks on hand if you need extra fuel for hiking. 
The great outdoors can be an absolutely fun place for a dog to go hiking.
However, you must remember that dogs can't exactly find food on their own when they are on the trail with you. This means you have to take all sorts of items to keep them happy and full.
Food Bowl
Did you know that many dogs need to consume more calories than we think? And hiking is one of the best ways to burn off those calories without damaging the environment or yourself. So before your next trip, you must find a good dog food bowl for hiking. 
Having your dog whine because they're hungry while away from home is the worst.
Also, feeding them properly on the go can be a challenge. A collapsible food bowl is a good option because it is easier to pack and all of the other items you must bring.
The good news is, if you bring a small towel, you can quickly wipe down the bowl and use the same one for both food and water.
Recyclable Poop Bags
If you love hiking with your dogs, you need to take dog poop bags on hikes for the environment's safety and your dog. The great outdoors is best experienced through hiking, but we all have a role to play in keeping the trails free of dog poop.
Bacteria and parasites can live in soil for many years. As a result of not picking up after your dog, other people's pets, as well as other animals, may become infected with disease-causing bacteria if they are exposed to them.
Dog poop bags aren't something most people think about when they go out for an afternoon hike. But these useful accessories should be on every hiker's essentials list. Don't just rely on the trail having poop bags available for you.
First Aid Kit for Canines
It's good to keep a canine first aid kit handy when you take your pet for a hike because it is the best way to be prepared if you get injured. You can never be too careful when your dog's safety. Hiking in the wild is fun with any dog, but it's also important to remember to walk slowly on trails and avoid steep drops.
Final Thoughts
Everyone's personal list of what to pack when hiking will be different based on his or her preferences, the weather, and the location.
However, the items listed above are all valuable for a successful hike with your dog. Hopefully, this article has given you some things to think about as you plan out your next big hike with your furry friend.