Torrey Pines State Natural Reserve is one of the hiking paths I return to frequently after living in San Diego and exploring the area's various trails on sunny weekends.
It's also one of San Diego's nicest hikes, with golden-hued cliffs and a sand beach below, to be sure.
That being said, I'm going to go over the best trails in Torrey Pines and all of the essential information you need to know ahead of time. Torrey Pines State Reserve trekking may be idyllic, but it's always better to be prepared and aware of your surroundings.
Some background about the reserve is in order:
Torrey Pines State Natural Reserve Quick Facts:
Where: located off North Torrey Pines Road in the La Jolla neighborhood of San Diego, California.
Hours: The Visitor Center is open from Monday through Friday from 10:00 am to 4:00 pm, and Saturday and Sunday from 9:00 am to 3:00 pm. The park is open year-round.
Cost: Free
Parking: The general admission day use price ranges from $12 to $25 per car and is dependent on demand unless you have a valid annual California State Parks Vehicle Day Use Pass. Recreational vehicles that are longer than a conventional parking space are only permitted in the North Beach lot.
You may also find free street parking, but it tends to get busy with the combination of park visitors, beachgoers, and surfers.
Dogs: No. According to the Park officials, creatures are scared of dogs, and their feces drives nesting animals to abandon their young.
Trail Length: 8 miles of 5 trails combined
Difficulty: Easy to Moderate – The trail is well-maintained and fairly easy to hike. Both the North and South Beach parking lots lead to a short steep climb. You can avoid the climb completely if you park at the visitor center.
Location & Contact:
12600 N Torrey Pines Rd
La Jolla, CA 92037
Torrey Pines State Natural Reserve Info on CA Parks Website
Torrey Pines Trails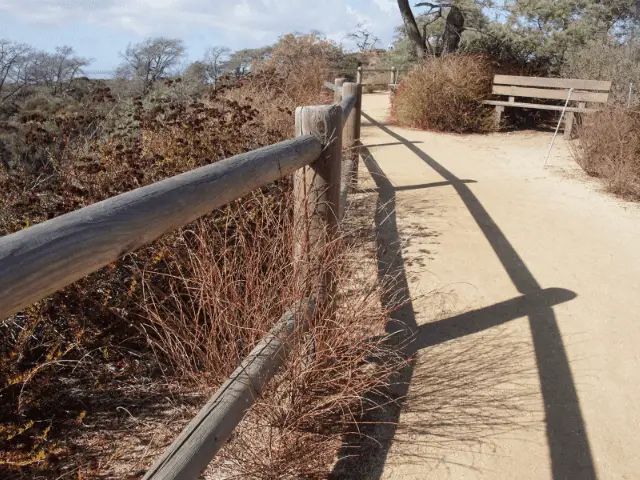 Easy hikes in San Diego can be found at Torrey Pines State Park. Despite the fact that most of these hikes won't require you to work up a sweat, they're packed with breathtaking views.
Throughout the year, the scenery is breathtaking, and the sunsets are especially stunning. Inexperienced hikers won't have a problem completing this lengthy trek.
Inexperienced hikers may find the High Point Trail to be the most difficult. Located at an elevation of 300 ft above sea level, this is Torrey Pines State Natural Reserve's highest point. At the summit, you'll find yourself at the High Point Overlook.
The 0.8-mile loop in Torrey Pines is the most popular in the park. Not much exercise, but a chance to enjoy the ocean air and go at your own pace. It is the best site in the area to finish up your glute workout with a panoramic view of the surrounding area, which also includes the lagoon.
Another one of my favorite trails is the Guy Fleming Trail. It won't really matter if you go left or right at the trailhead because this is a loop route.
The trail is well-marked for native plant species, and its level terrain makes it an excellent choice for families with younger kids or individuals who have mobility concerns. Just keep in mind that it isn't ideal for those using strollers, and it isn't ADA compliant.
If you're a photographer, this walk has two picturesque overlooks with benches and stunning views of the coastal bluffs and the scenic scenery below. Once you've reached the vantage locations, spend some time scanning the horizon for whales or dolphins.
Guy Fleming Trail is a wonderful short trip to explore the beauties of the park without committing too much time or energy to a lengthier trek. If you go in the spring, this is a beautiful hike to see wildflowers.
For those who want to see more of Torrey Pines State Natural Reserve's rock formations, the Razor Point Trail is an excellent option. An out-and-back or a loop may be made out of this route which can be found about 600 feet from the Beach Trail trailhead on the right and is accessible through the Beach Trail.
To get to the Yucca Point Overlook at Torrey Pines, you'll need to take the Razor Point Trail. It is sometimes referred to as the Razor Point Overlook due to its proximity to a popular hiking trail, and it's about 1.2 miles long.
The Yucca Point Overlook, which offers sweeping views of the Pacific Ocean, is a short detour off the main trail on the Yucca Point Trail.
Walking, hiking and other outdoor activities are highly popular here, so you're likely to run into other tourists and hikers while you're out exploring. You'll also find yourself in an area that is both rugged and beautiful at the same time.
The Razor Point Trail also leads to Red Butte, which is well worth a visit. Red Butte, a massive sandstone boulder, provides a stunning vista of the park's shoreline from its vantage point. It's a short, kid-friendly trail.
You'll see tafoni formations and gorgeous cream yucca blooms along the paths in the spring. It's a honeycomb-like design formed in cliffs by erosion, and it's called tafoni.
Razor Point, Beach, and Broken Hill are all great options for a lengthier hike at Torrey Pines State Natural Reserve beyond the typical one-mile and under hiking trails.
Finally, one of the most popular trails at Torrey Pines State Natural Reserve is the Beach Trail, and it is my personal favorite. As the name implies, you can visit Torrey Pines State Beach from this location.
The Upper Reserve of Torrey Pines is a sand-covered, rustic trail that leads to the beach.
The Beach Trail comes to an end at a set of steps leading down to Torrey Pines State Beach, which is 300 feet below and perfect for a quick swim.
To end your journey, you can either head back the way you came or, if the tide is low, take a further walk along the beach to a parking lot farther down. A 3-mile journey is expected if you park in a lower parking lot or along the street and walk to the Beach Trail from that location.
While we don't "rate" trails, we highly recommend checking out the Torrey Pines Natural State Reserve if you're ever in San Diego, California.
Also, if you've never traveled to nearby La Jolla, CA, you're in for a treat. The rough shoreline of La Jolla makes it a popular seaside destination. There are a plethora of local businesses and restaurants to choose from.
It's a terrific way to get a taste of San Diego's seaside community.