Los Angeles loves dogs, fitness, and a good suntan. Hiking with dogs in LA gives you all of that while exploring the beautiful landscapes the city has to offer.
Looking to get out on the trails with your best dog friend? Here are six can't-miss hikes.
Runyon Canyon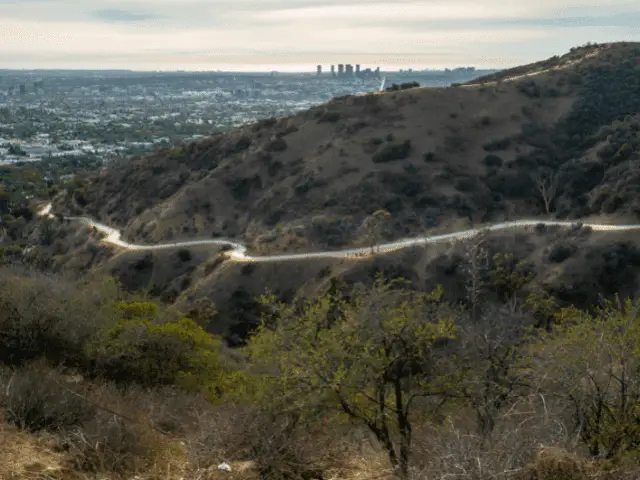 Location: West Hollywood
Distance: 2.7 miles
Difficulty: Easy
This West Hollywood trail makes a little less than a 3-mile loop. Amid those 15,000 or so feet are hundreds of beautiful people in expensive athletic wear trying to get their steps in while filming their next viral Tik Tok.
You'll get decent views of Los Angeles, but this isn't a "nature hike" by any means. If you're looking for the urban hiking version of a social club, though, this trail may be the one for you and your four-legged friend.
And if you are sliding into your LuluLemons to hit this influencer-laden path, you'll need to be prepared.
Finding parking in West Hollywood can be much harder than the hike itself. The trailhead has no assigned parking lot, and street parking can be hard to come by. Many would-be parking spots are also permit-only. If a sign says you'll get a parking ticket, you will get a parking ticket. (And it won't be cheap.)
Runyon Canyon sees its biggest crowds around noon on weekdays and all day on the weekends. Morning and evening weekdays are your best bet for easy access, and even then, expect to see lots of pretty people with cute dogs of their own.
The loop splits between a paved asphalt walkway and the dusty West Ridge trail. They run parallel to each other and connect at the end of the park. Starting on either path is usually accessible for even the most novice of hikers, but the trails have practically no shade, and the heat can be punishing in the summer.
Foxtails are a problem at this park, so keep an eye on your trail buddy.
Eaton Canyon Trail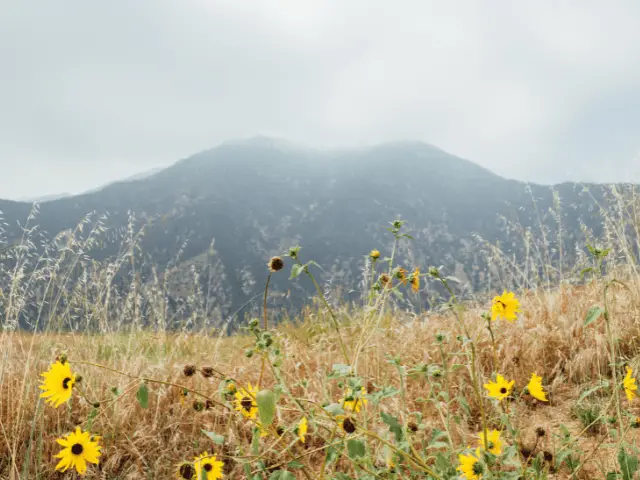 Location: Pasadena
Distance: 4.4 miles
Difficulty: Easy
Eaton Canyon Trail is an out-and-back jaunt with low elevation change, a manageable difficulty level, and a waterfall to boot. In the spring, wildflowers make this Pasadena hike extra beautiful.
At the trailhead, you'll find ample parking, restrooms, and Eaton Canyon Nature Center. Wide paths and minimal obstacles make this one of the more accessible trails in the Los Angeles area, although the way is rougher as you near the waterfall.
The downside of this trail is just how crowded it becomes on the weekends.
If you visit on a Saturday or Sunday, you'll have navigated past bands taking album cover photos, film school dropouts operating a drone for the first time, and a family of 5 all hiking in flip-flops before you reach the waterfall.
Even so, this trail is worth it with your dog, especially if you can make it when there's been decent rainfall. If possible, though, save yourself and your pup from the Disneyland-rivaling crowds of the weekend, and go on a Wednesday.
Beaudry Loop
Location: Glendale
Distance: 5.5 miles
Difficulty: Moderate
This trail into the Verdugo Mountains is a perfect workout for you and your dog. Generally less crowded than other hikes in Los Angeles, Beaudry Loop offers breathtaking views of the city and the San Gabriel Mountains. Standing at the trail's peak on a clear day, you can see all the way to Catalina Island.
Parts of this trail allow dogs to be off-leash–something few other LA hikes can boast.
The loop is a relatively steep climb on a fire road with several well-marked offshoots. The wide, well-maintained path means that you and your pup will have to dodge the occasional mountain biker.
Beaudry Loop offers little shade until the evening when the shadow of the mountain covers the trail. The daytime heat is a major setback for hikers and dogs, especially from July – September. Make sure to bring water for you and your dog and take breaks when you find shady spots.
Starting the trail at sunrise or sunset gives hikers an escape from the heat. Morning and evening hikes also provide a gorgeous array of colorful sky and city lights. If you're planning to go with your dog at sunset, a flashlight will come in handy for the descent.
Inspiration Point Trail
Location: Pacific Palisades
Distance: 2.2 miles
Difficulty: Easy
This 2.2-mile loop near the Pacific Palisades draws residents and tourists alike for its stunning views of both the city and the beach.
Beginning in Will Rogers State Park, the trail climbs into the hills to Inspiration Point and descends back into the park. If you and your dog want to venture further, though, there are many well-marked connections to other trails.
Inspiration Point Loop offers terrain and views similar to nearby Temescal Canyon and Los Leones trails, but unlike those trails, it's officially dog-friendly.
The humorist Will Rogers famously said, "If there are no dogs in Heaven, then when I die I want to go where they went." It's only fitting that the park that bears his name would accept our furry friends.
Since the trail begins in a state park, there's onsite parking (for a fee) as well as restroom facilities. The trail is well-loved and well-trafficked, but not in a problematic way. You and your dog should have an easy, enjoyable hike.
Solstice Canyon Loop
Location: Malibu
Distance: 3.0 miles
Difficulty: Moderate
While the drive is a bit far from LA proper, Malibu's Solstice Canyon doesn't disappoint.
The loop manages to pack in exotic plants, a small creek, a 30-foot waterfall, the oldest still-standing stone building in Malibu, multiple ruins, and a statue of the Virgin Mary into a 3-mile loop in the Santa Monica Mountains. On top of that, it's shaded for much of the hike.
This is a popular, dog-friendly trail, so you and your pup might even make a few friends. Parts of the path are steep or slippery, but overall this is a fantastic beginner hike.
While the drive is a setback for some, hikes in Malibu offer a pleasant reprieve from the inescapable hum of traffic that you find on all the hikes closer to the city. The landscape is a nice change up, too, offering more and different foliage than other hikes on this list.
Hollywood Sign via Canyon Drive
Location: Los Feliz
Distance: 5.1 miles
Difficulty: Moderate
Griffith Park's 4,000 acres offer Angelenos and tourists alike a dog-friendly paradise. Many trails run through this urban oasis, but this out-and-back path to the Hollywood Sign is a right of passage that you and your dog should share.
It's usually easy enough to find parking near the trailhead, and it's even easier if you don't mind walking a short way. The trail is wide enough that even on the busiest days, it doesn't feel crowded.
While you'll experience significant elevation gain–just under 1200 feet–it's a gradual rise that's easy on the knees (and paws). Like many popular LA trails, you'll find little to no shade, so on hot days, remember to take breaks for your sake and your dog's. Water is a must, and snacks make for a great reward when you reach the top.
The trail peaks at the top of Mt Lee, where the gigantic letters of the famous Hollywood sign rest. The hike will take you behind and just above the sign's letters and reward you with a view across the city all the way to the Pacific Ocean.
Something to keep in mind on this trail is that it's very close to the corral that rents horses to ride through the park. You and your dog will possibly run into a group of equestrians, and you will definitely have to dodge what those horses have left behind.
The Hollywood Sign Trail via Canyon Drive is one of the better workouts for you and your dog in Los Angeles. If you're living or staying in central LA, it's one of the closest, too.