The technological capabilities of the Apple Watch have increased exponentially in the last five years. By using hiking apps on your smartwatch, you have immediate access to a library of popular trails, details on conditions, and the ability to record your own hiking data for future reference.
Apple Watch can show elevation changes, GPS coordinates while the apps provide pictures of locations and sometimes reviews or feedback from other hikers on how they felt about a given trail. Your watch lets you access all of that at a moment's notice.
It is lightyears beyond paper maps (How to read a Topographical Map) and sighting compasses. If you have been using apps on your smartphone, then there will be a few differences in terms of what is available for your Apple Watch. There are not as many apps, but the available ones have a lot to offer.
The vast majority of hiking apps for your watch have paid subscriptions and basic free options available. Some also offer trials of the premium content to see if it is worth spending a little more to get those extra features. The apps share a few things in common such as GPS tracking and offline maps.
Whichever app you choose needs to fit your lifestyle. Weekend recreational hikers may have different expectations compared to professionals who spend days or weeks at a time out in nature.
This page contains affiliate links. If you use these links to buy something I may earn a commission. Thanks.
Why Use a Hiking App?
They give you an easy place to store all your maps, tracking data, and personal goals, then an app is perfect. There are also plenty that transition seamlessly between platforms so that you can take your Apple Watch for your hike and then go over the data later on your Android tablet or smartphone.
No matter your skill level, there are apps that can help you get more from your outdoor adventures.
At the bare minimum, any app you use for hiking should provide GPS navigation and tracking, but there are plenty of other tools. The following are some app functions that make them useful for hikers.
Ability to track elevation changes
A library of offline maps
Route tracking through GPS
Ability to sync with popular hiking websites (only some apps) and to-do lists
Ability to send updates to popular social media sites like Facebook
Turn-by-turn directions including photographs and off-route notifications
Ability to give feedback for specific trails (like difficulty rating) and read comments by fellow hikers
Time tracker and real-time map updates
Real-time weather tracking
Ability to share your trail data and export it to other apps
The 3 Best Apple Watch Apps For Hiking
We have looked for Apple Watch apps with superior functionality, features, and adaptability. Most of these are useful for various outdoor activities, so if you find yourself wanting to branch out from hiking, you can use the same app for boating, running, or cycling.
Gaia GPS Hiking, Offroad Maps
https://apps.apple.com/us/app/gaia-gps-hiking-offroad-maps/id1201979492

Gaia GPS is an incredibly popular hiking app and it is our personal favorite. Gaia GPS is listed #27 in Navigation within the Apple app store. It offers more features than most other hiking apps.
Free membership includes an air quality (current and forecast), wildfires (current and satellite detections), snowfall, and precipitation (forecast) tracker. It lists private and public properties with satellite overlays showing camping sites, parklands, and forested areas.
The free version also includes Gaia Topo Maps. You can discover and read detailed information on any of the listed trails. This is more of an exploratory app than some of the others and has less of a focus on data tracking, so if you are hiking for the health points or want to share route details with your friends, then Viewranger might be a better option.
A subscription to the app will get you excellent tools, including a massive list of maps for hunting, hiking, biking, and driving. It includes NatGeo Trails Illustrated, Historical Wildfires Map, and • US Private Land Ownership Maps. While these are not necessary for you to have a great time with the free app, they can help determine whose land you are on and the best routes through particularly rough terrain.
Gaia GPS has a 4.8 out of 5 stars rating in the Apple store from over 13,200 reviewers. It is available for watchOS 2.0 or later and is 160.9 MB. This app supports 19 languages, including Japanese, English, Russian, Swedish, and French.
AllTrails: Hike, Run & Cycle
https://apps.apple.com/il/app/alltrails-hike-run-cycle/id405075943

There are over 100,000 trails listed on this app. It is crowdsourced so you can see millions of comments from fellow hikers along with their pictures and statistics for whatever route you are looking to explore.
The paid premium version also has off-route alerts to keep you in the right place, Lifeline to make sure safety contacts know where you are at all times, and real-time map overlays from satellites. There are some handy map filtering options, which include the following.
Fitness and experience level
Kid-friendly trails
Wheelchair friendly trails
Hiking, mountain biking, or running trails
This app can export information to your Apple Activity app. If you sign up for AllTrails, you get to record and favorite trails or follow other users. Customers have rated this hiking app as a 4.8 out of 5 stars from 218 reviews. It is compatible with watchOS 3.0 or later and is 193.6 MB. Though the app is free, it does cost to get the AllTrails Pro version.
ViewRanger
https://apps.apple.com/app/viewranger-outdoors-gps-open/id404581674

This app can record your hike and sync the data with some other apps, including the Apple Activity app and Apple Health app. It will create a summarized record of your outdoor activities.
While out on your hike, you can check it at any time, even if you are offline. It will give you a reading of your altitude, elevation gain or loss, GPS coordinates, and distance traveled. You can zoom in or pan through any offline map to ensure you do not miss a thing.
There are in-app purchases. You can download ViewRanger for free, but will need to pay to use the library maps, including USA Topo Map, Canada Topo Map, and Maps for USA. However, there are plenty of free maps out there that you can download and import into the app. It is compatible with watchOS 4.0 or later and takes up 219.1 MB.
There are a few pros and cons. If you accidentally swipe up while using it, the offline maps will disappear, and you will be unable to re-access them without a phone signal, so if you are in a rough area and lose the maps, it can be problematic.
Newer updates have night vision and map auto-rotate as display options. Other features that stand out are the ability to add notes and pictures for your trail and export your trail information to share with others.
Customers have rated ViewRanger a 4.5 out of 5 stars from 1,300 reviews. Multiple customers have reported the battery saving is superior on this app compared to some other free alternatives giving your Apple Watch a longer life for the hike.
The Benefits and Drawbacks of Using an Apple Watch
Using a watch instead of a phone, tablet, or other smart devices comes with some advantages and disadvantages.
Benefits
Convenience is a huge benefit of using an Apple Watch to organize your hiking trip and track all your route information. You will be able to see detailed progress, check your location, send out notifications, and look at other information with a flick of your wrist.
Apple Watches are water-resistant. This means if the weather takes a turn and you end up experiencing a downpour, your watch, and app content will be fine. Apple Watches 2 through 5 are also capable of withstanding underwater activities up to fifty feet, so if you accidentally plunge it into some water, the device will remain intact.
You can use your watch to quickly and efficiently update friends and family of your location. These notifications can give them peace of mind and be useful if you get lost, have an accident, or are stuck in bad weather. There are some hiking safety apps like Cairn

, which will send a pre-loaded "I'm okay" message to a recipient with two taps on the screen.
Unlike some other smartwatches, which can be quite bulky, the Apple Watch is sleek and easily fits under coat sleeves and gloves.
Drawbacks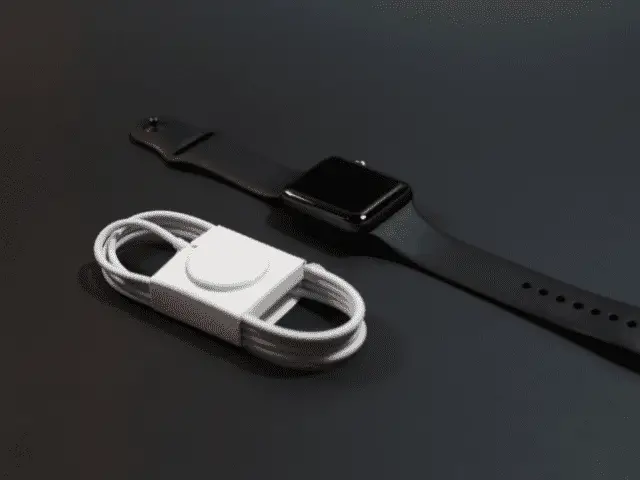 Your Apple Watch is going to need to charge no matter how little you use the battery. That means it may not be ideal for multi-day hiking trips through the mountains. The watch will die after about a day and a half of use on the trail without access to a charge.
Every time the GPS is running in the background, it is draining the battery. You can always bring along an outside power source to offset this problem, but you cannot use it while charging.
If you wear the watch band too loose around your wrist, it will think that it has been taken off and stop reading. This can cause you to lose data for your hike if it loosens without you noticing.
Final Thoughts on Hiking Apps for your Apple Watch
I have been underutilizing my Apple Watch for years. Little by little though, I'm starting to learn how to take advantage of my watch and reducing the amount I rely just on my phone. If that sounds familiar then you've probably not been using your Apple Watch to its full capabilities when you're hitting the trail.
I strongly recommend checking these apps out and giving them a go on your next hike. You may be surprised at how much you can keep your phone in your pack.