The Big Island of Hawai'i, or the Hawai'i Island as locals prefer it to be called, is an outdoor enthusiast's dream. It is home to one of the tallest mountains in the world, active volcanoes that spew lava into the sea, beautiful waterfalls and so much more.
One of the best things that I love about Hawai'i Island is the amazing hiking potential that it has to offer. I have personally been steps from active lava and one of the first people to step foot on a newly formed black sand beach.
There are hikes here that cannot be found anywhere else in the world. Let me share with you a few of my favorite hikes on Hawai'i Island from someone who has hiked almost all of them. I tried to include at least one hike from each district of the island that will be sure to amaze.
This page contains affiliate links. If you use these links to buy something I may earn a commission. Thanks.
Ohai 'Ula to Kauna'oa Beach Hike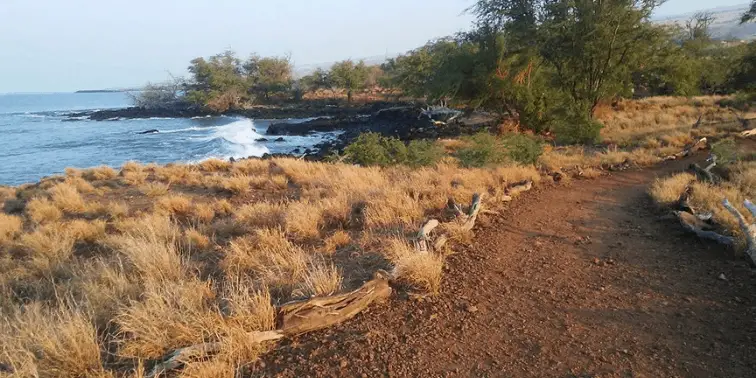 Trailhead: Spencer Beach Park
Mileage: 3.4 miles R/T
We start off our list of hikes with none other than one of the best beach hikes on the island. This hike takes you along an ancient coastal trail that traverses ancient lava beds, beautiful white sand beaches and newly constructed luxury resorts.
The weather here can get very hot. I like to start before 8am, bring plenty of water and lather up with a reef-safe sunscreen.
At the southern end of Ohai'Ula beach past a pavillion/bathroom located near the camping area is the trailhead for this hike. Here you'll find old Date Palms and Mangoes falling to the ground if you are lucky as you begin the trail along this beautiful stretch of coastline.
After an easy ½ mile hike you come up to the first and best secluded beach on this hike. The name of this beach is Maumae Beach. It has some of the best sand on the island and that sand continues on far out into the sea which is rare on this young volcanic island.
As tempting as it may be to jump in, I like to keep my clothes dry just a little bit longer and save a dip at this beach for my return trip. Instead, I will continue down the beach and rejoin the trail which continues just inland of the house on the southern side of the beach.
From here the views really open up to see views of the Kohala Coast and 4 of the 5 major mountain peaks of the island, Hualalai, Mauna Loa, Mauna Kea, & Kohala. At the same time, you will begin passing luxury beachfront homes.
About a ¼ mile or so after Maumae beach is a small beach where a river meets the sea. Careful here. I have been up to my waist in quicksand when the river is flowing. It can be dangerous for the little ones.
After crossing this little beach, continue along the coast for about another mile before coming across Kauna'oa Beach, or Mauna Kea Beach which is located in front of the Mauna Kea Beach Resort. It is an amazing stretch of sand that boasts some excellent swimming and body surfing waves.
Insider Tip: At night there are Manta Rays that can be seen from the shore thanks to a spotlight located near the water. If you want to catch a glimpse of these amazing creatures, be sure to bring a flashlight because the way home will be in the dark.
Ha'ena Trail (Shipman Beach)
Trailhead: Beach Rd & Kaloli in HPP
Mileage: 5 miles R/T
In a district with very little hiking options, the Ha'ena Trail is a diamond in the rough. Once part of the ancient Ala Kahakai Trail that circumvented the whole island, the Ha'ena Beach Trail is a historic trail that leads to a beautiful white/black sand beach in an area where beaches like this do not exist.
The trail begins at a parking lot that is located at the dead end of Beach Rd just of Kaloli Road in HPP. Be careful when you park here though, break-ins are commonplace here.
The first ½ mile or so starts off with a sun drenched, scrubby coastal trail with a rocky path that is just waiting to twist an ankle. Before long though the trail enters an old growth coastal forest that looks straight out of a movie.
Trees with huge roots and giant vines that you can swing on abound in this area. Finally some shade from the hot sun, but it can still be muggy. If you hike this trail after a recent rain the trail will be outright muddy and it might be better to be wearing muck boots than hiking shoes.
After about 2 miles on this trail that runs parallel to the ocean it opens up to a beautiful white sand beach with turquoise waters. Time to take a swim, but do not swim too far out because currents and rescues are all too common in this area.
Most likely you will come across dozens of Green Sea Turtles while you are here which is nothing short of magical.
When you are done playing in the sand, simply return on the trail you came in on. A beautiful walk back into the time of old Hawai'i.
Kilauea Iki Trail
Trailhead: Thurston Lava Tube
Mileage: 4.2 miles loop
Located in Volcano National Park, this is the trail you want to hike if you want to hike around the volcano. Vista views, old growth forests and a decent into a giant lava crater, what more can you ask for?
My 5 year old has done this hike numerous times and they love it. You can begin this hike from two spots, the Kilauea Iki Trailhead and the Thurston Lava Tube trailhead. I prefer the later because you are going against the crowd, making it feel a little less popular.
Once on the trail it is a 1 mile decent into the crater floor. Along the way you will pass through old growth Ohi'a Forests with giant Hapu'u ferns filling in the understory. It feels like something out of Jurassic park except the only raptor you might see is the native Hawaiian hawk known as the I'o.
Before too long the first opens up to a giant lava filled crater that is breath taking. It is easy to feel really small in such an amazing spot. Continue on across the crater floor and meet up with the trail on the other side to continue the loop and climb back out of the crater back to your start point.
No trip to Hawai'i Island would be complete without a hike in Kilauea Iki.
Pololu Valley to Honokane Nui
Trailhead: Pololu Valley Overlook
Mileage: 5.1 miles R/T
On the Northeast side of Hawai'i Island are a series of giant valleys that are awe inspiring. Many may be familiar with Waipio Valley on the southern end of these series of valleys, but fewer make it to Pololu Valley and even less to Honokane Nui.
I chose Pololu Valley over Waipio for several reasons. For one, Waipio has had a lot of pressure put on it lately and the residents of the valley want to limit visitor access in order for the valley to rest. Let's respect that choice.
Besides, Pololu is way more beautiful in my opinion. Undeveloped, misty waterfalls plunging into the sea, off shore islands, this spot is way more picturesque in my opinion.
To hike in it is a quick 1 mile hike down a switchback trail to the valley floor. Here you will find a beautiful rock strewn, black sandy beach fronted by an ironwood forest that opens up to thick grassland towards the back of the valley.
You can end your hike here or continue on to the opposite end of the valley where you can make your way back up and over to the other valley of Honokane Nui.
Along the way you pass through thick forest where you may find a ripe guava or lillikoi to snack on. After about 1.5 miles from the Pololu Valley floor you come across the overlook for Honokane Nui.
There used to be an actual trail that led down into the valley but an earthquake destroyed that old trail. If you want to descend into the valley it is going to take some guts and the ability to rappel down several ropes to get to the bottom.
When you are done with this area, simply return back the way you came.
Honomolino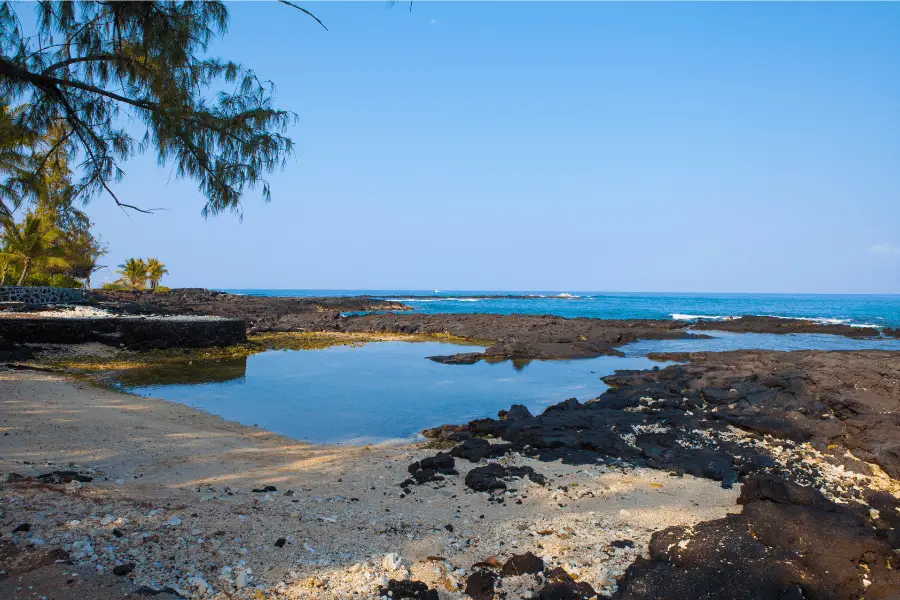 Trailhead: Miloli'i Beach Park
Mileage: 1.2 miles R/T
Most people come to Hawai'i for the fine dining, resorts and white sandy beaches, but for those of you looking for a feel of old Hawai'i without a long hike, this is it.
Honomolino itself is a beautiful black sand beach that is rarely visited. Snorkeling is fantastic here on the southern end of the beach or simply lay out and enjoy the sun.
To get here you take the trail just to the south of the Miloli'i beach parking lot and continue on for a little more than ½ mile. You will pass by ancient fishponds and homes of people living the way their ancestors lived hundreds of years ago.
It really feels like stepping back into old Hawai'i. If you're lucky you might catch a glimpse of the fisherman bringing in their daily catch. There's something magical about this spot.
If you are feeling adventurous, you can continue past Honomolino Beach to Akoe Bay, which is 2 miles further down the trail, but be warned, this trail traverses an old fire road cut through the jagged A'a lava. It is completely in the sun and can get REALLY hot, so bring plenty of water and sunscreen.
When your hike is through, simply head on back the way you came. Be sure to be respectful here and if you can, help keep the area clean and pack out any rubbish you may come across.
Hiking Hawai'i
These hikes are just a small sampling of the hikes that Hawai'i Island has to offer. If you are here for a short time, you cannot go wrong with hitting up any of these trails. If you live here, then you know that this list is just the beginning of an expansive list of hikes that the island has to offer.
Hawai'i is nothing short of breathtaking and by getting outside of the normal tourist loop you are setting yourself up for an adventure that you will be taking about with your friends back home for months to come. Thanks for reading. Aloha.