For avid hikers, Hawai'i is a dream destination.  From scaling active volcanoes to hikes out to secluded beaches, Hawai'i has something for everyone.  I for one have been on almost every known hike on the Island of Hawai'i, as well as a few on the other islands and still, I am in awe every time I hit the trail.
You do not need to have a trail guide to hike in Hawai'i.  The islands have a public trail system that everyone is allowed to use.  However, some trails do require permits or a fee.  But if you are looking for a hike that is a little more unique, then a guide may be just what you need.
If you have not yet hit the trail in Hawai'i, you have come to the right place.  Let me be your guide as we hit the ala hele (trail) of the Hawaiian Islands.
You Do Not Need A Guide, But You Should Be Prepared
As I have already mentioned, you do not need a hiking guide to hit the trail in Hawai'i, but it could really help to have some information before you go.
I remember my first hike in Hawai'i.  It was on the Kalalau Trail on the North Shore of Kauai.  I was headed out for a 2 mile trek to a beach and waterfall with some of my friends.
Two miles, piece of cake right?  Wrong!
It was one of the most grueling hikes of my life.  The hike was a muddy mess.  The sandals I was wearing were useless (and yes, I was wearing sandals on a hike, we are in Hawai'i after all).  In fact, I had to ditch them after the first mile.  We were slipping and sliding, covered in mud from head to toe. Three hours later we made it to the beach just 2 miles from the trailhead.
We were exhausted, short on water, and still had to face the return trip.  Needless to say, we were not ready for it.  I have learned a lot since that day.  So let me share some of that knowledge with you.
Hazards To Consider
It's hard to think that a tropical paradise like Hawai'i would have any dangers to consider when planning a hike, but that could not be further from the truth.
SUN – The tropical sun can be your friend when you are lounging on the beach, but when you are out for a hike, things can get hot real quick. I like to hike in the early morning hours or after 2pm, just remember though, the sun sets quickly in the tropics. (Why hiking in the morning is a smart idea on a hot day)Be sure to wear a hat, have plenty of water and lather up that reef safe sunscreen from CocoAloha.
RAIN – Rain can move in at any minute in Hawai'i. It can turn a dry trail muddy in an instant or cause flash flooding.  Be sure to know if your hike is susceptible to these issues before you go. Wear good shoes, bring a lightweight raincoat and a good umbrella.
ROCKS – The Hawaiian islands are made up of volcanoes and with it, lava rock. Many of Hawai'i's trails are rocky and uneven, making them more difficult than ones you may be used to back home.  These rocks are sharp and jagged too.  Many an ankle has been twisted by these pohaku, or stone. I like to carry with me hiking poles and a good first aid kit with band-aids and a splint kit.
CRIME – It's a sad fact of life, but Hawai'i is riddled with car thieves. A rental car at a trailhead is a prime target.  Whenever you go for a hike, take all of your valuables and leave your doors unlocked so hopefully they don't smash your windows.  Theft may be so prevalent in some spots that you may want to get dropped off instead of leaving your car behind.
WILDLIFE – Lucky for us, Hawai'i does not have many creatures that will kill you. The worst culprit is mosquitoes. In some spots they'll eat you alive.  Some are vectors of mosquito borne illnesses.
Centipedes and scorpions have been known to inflict a painful sting on resting hikers.  And be careful munching on all that wild food, slugs may be present, which carry Rat Lungworm Disease.
SWIMMING HOLES – Who among us can resist jumping into a swimming hole at the base of a tropical waterfall. It's the stuff dreams are made of.  But be warned, many of Hawai'i's freshwater streams contain leptospirosis.  Also watch out for the threat of rain, which can lead to flash floods.
I like to bring a bathing suit wherever I go in Hawai'i.  You never know if there is going to be an opportunity for a swim.
Check the Weather
Before you hit the trail, check the weather. The weather in Hawai'i can change in an instant.  In fact, as I write this article, it went from clear skies to pouring rain before I was able to finish this paragraph.
Bad weather can turn an epic hike into a person's worst nightmare.  When the rain falls, you can be drenched within seconds, leaving you soaked to the bone.
There are also threats of flash floods that have killed many who have failed to heed this warning.  If dark clouds begin to form upslope, it might be time to think about going home.
Two apps that I like to use to check the weather in the islands are:
Special Permits
While the majority of the hikes in Hawai'i do not require a permit, there are 2 that do.  Both of them are found on Oahu.  Lulumahu Falls and Kaena Point both require a DAY USE permit from DLNR.
There are other hikes that require a permit, but they are considered overnight backcountry hikes.  These permits can either be obtained through the DLNR website or, if they are located in one of the National Parks you would have to get a permit through the respective park.
OVERNIGHT HIKES THAT REQUIRE PERMITS
Kalalau Trail – (Kauai, DLNR) beyond 2 miles on the Kalalau Trail requires a permit
Muliwai Trail – (Hawai'i Island, DLNR)
Palikū or Hōlua – (Haleakala NP – Maui)
'Apua Point, Keahou, Halape, Ka'aha, Mauna Loa, Napau and Pepeiao (Volcano NP – Hawai'i Island)
Kapu: No Trespassing Signs
While many of Hawai'i's best hiking trails are open to the public, many on social media have been promoting trails that are Kapu, or have no trespassing signs.  While enforcement may have been laxed regarding people trespassing on private property for a hike, authorities are beginning to crack down on some of the most popular ones.
Stairway to Heaven trail on Oahu and the White Road hike on Hawai'i island are two such spots with increased enforcement and rightly so, both these trails are extremely hazardous.
The government is currently proposing a bill that would require hikers to have to pay for their own rescue because so many who have trespassed over the years have found themselves in dangerous situations.
Best to stick to the trails that are officially sanctioned and leave those Social Media spots alone.  Besides, one sure way to anger a local in Hawai'i is to trespass without asking for permission first.
A Good Hiking Guide Can Show The Hawai'i Only A Few Ever See
While hiking in Hawai'i can be pretty accessible, some of the best spots can only be found with a guide.
It's no secret that local knowledge can pay dividends and that remains true when hitting the trail in Hawai'i.  A local guide can take you to spots that others do not have access to or secret spots that only a few have ever discovered.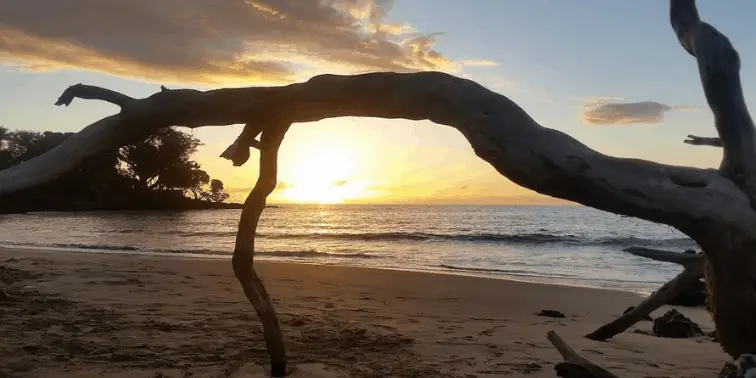 Besides being able to take you on some amazing hikes, a good local guide can be filled with knowledge about the history of a particular area or help you identify rare floura and fauna.  I know that when I go on a hike with someone who is from the islands, the stories I hear along the way bring the trails to life!
So if you are thinking of taking your Hawai'i hiking experience to the next level, be sure to check out these local guide services.  And be sure to tell them Hello from us.
Hiking Guides of Hawai'i
Kauai Hiking Tours (Kauai)
Kauai Hiking Adventures (Kauai)
Kaimana Tours (Oahu)
Hawai'i Forest and Trail (Oahu, Hawai'i Island)
Hawai'i Outdoor Guides (Oahu, Hawai'i Island)
Maui Hiking Safari (Maui)
Hiking Hawai'i Awaits
You have made it to the end of this post and are now in possession of some of the best information on hiking in Hawai'i, shared with you by someone who has been hiking Hawai'i's trails for over 20 years.
No matter what trail you choose, it will be a hike that you will remember for a lifetime.
Before we go, it is important to know that in Hawai'i, we offer before we take.  So as you take in the beauty of the 'aina, consider helping (kokua) by picking up rubbish, removing fallen branches or otherwise respecting the land and it's people.  If you do that, the islands will give so much back to you in return.
Happy Hiking!