Are you planning to pack your bags and head out for a hiking session? If that is the case, you are on the right page! In this article, we will discuss some of the best tips for hiking when the weather is down and fairly cloudy.
As you read through the next few sections, you will find some valuable insights into the dos and don'ts when it comes to hiking when clouds are looming in the sky.
This page contains affiliate links. If you use these links to buy something I may earn a commission. Thanks.
Pick the Perfect Trail
This one goes without mentioning: if you're hiking on a wet or cloudy day, it is imperative to pick just the right kind of trail. While on regular days you can still have some room for exploring, on cloudy days it could be dangerous to hike a to a summit you are not familiar with. Also, the strong winds and the clouds can distort the otherwise spectacular views.
So, if you think it's too cloudy or almost about to rain, opt for a forest hike, visit some trail by the lakeside, or simply hike along a waterfall.
In addition to all of these, you should also focus on the length of the hike. Make sure it's not too long and always aim for a trip that'll take you a couple of hours or an entire afternoon at most to complete. Day long hikes on extremely windy and rainy days don't usually lead to great experiences.
You should also focus on the length of the route. Study the map of your hiking trail carefully and pick the shortest route out there. This way you'll be completely safe even if it suddenly starts raining. We recommend trails with cafes in proximity as it also leaves you with a contingency plan if the weather turns out too bad. When all else fails – coffee!
Finally, make sure you have studied everything about the trail. If you find steep or slippery creeks, save those zones for a sunny day. You should also avoid trails that have a possibility of flooding. This is especially critical if you are in an area that is susceptible to flash flooding.
Get Waterproof Backpack Covers
Since you are heading out on a cloudy day, there is always a possibility of encountering rain. That is why it is vital to be duly prepared with the best set of accessories. Yes! We are talking about waterproof hiking gear, especially backpack covers.
If you're not familiar with backpack covers, they are exactly what they sound like. A thin piece of waterproof material that covers your backpack to keep everything dry. They remind me of a car cover, just much much smaller.
That is why it makes sense to keep a set of backpack covers in your bag. Make sure the product is high quality, durable, and resistant to wear and tear. You should also ensure that it is consistent enough during heavy rains (in worst-case scenarios). Available in almost every kind of shape and size, these covers will make your journey safer and better.
They're also pretty cheap. You can pick up a backpack cover at almost any outdoor store or Amazon for around $10.
Wear the Right Clothes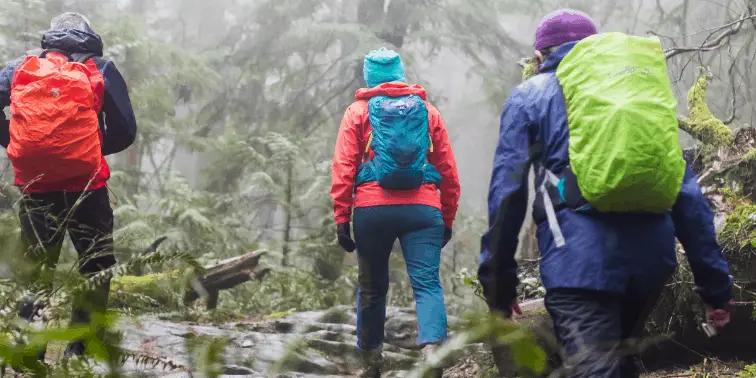 What you're wearing generally determines whether or not hiking in the elements is manageable or miserable. Since you're heading out on a cloudy day, there are chances of catching the rain and that is why it is important to wear weather-appropriate clothes.
Our first suggestion here would be a breathable and waterproof jacket. Make sure this jacket also comes with ample pit zips for proper venting. Another thing to look out for is the quality of the hood. Do not invest in the jacket if the hood is not adjustable.
The next thing to focus on is your trousers. Get a pair of breathable and waterproof pants. Finally, team it up with a baseball cap (preferably made of nylon, polyester, or similar other material). This will not just keep you cool but also dry in case you encounter the rain.
When it comes to inner garments, we suggest synthetic base layers. Ideally, you can get a set of long and lightweight underwear. Running tights are equally useful in this case. Team it up with a classy tee to add to the coolness.
In case you do not opt for wearing waterproof trousers, consider wearing water-resistant pants (made of nylon), else you can also keep the tights or underwear long enough to prevent any possibilities of wetness. Once you're done wearing everything else, put on a comfortable and warm fleece layer for the times you get cold.
Regardless of anything you pick, do not choose cotton clothes as it is more likely to take up excess water and aren't warm enough when completely wet.
You should also get a pair of waterproof boots for safety against the rain. While conventionally, many would pick hiking boots you can also try wearing light trail shoes with fabric crafted from Gore-Tex lining.
Make sure your socks are made of a material that will wick moisture well (Here are our favorite hiking socks). In case it is muddy or you are expecting puddles, wear a pair of gaiters to prevent the mud or water from getting inside the lower parts of your pants and the upper layers of your boots.
Finally, regardless of everything else, also carry a dry bag. This should typically include a new and fresh set of clothes, shoes, and socks.
Have the Right Kind of Attitude
Very often, people are deterred from hiking because they don't enjoy cloudy weather. However, this should never be the kind of attitude to follow. If you are only heading out during the sunshine you are only encountering one side of nature. When it's cloudier or about the rain, everything appears greener.
The best part: you will find the creeks burbling and the waterfalls gushing. At the end of the day, you will be left with misty and perfectly cool weather that also brings multiple photo opportunities.
Since most people aren't fond of the cloudy weather, you will find popular trails less crowded with ample time to enjoy yourself. And in case the sun finally comes out at the end of the day, you will encounter the prettiest weather phenomenon: stunning sunbeams floating through the mist. But to enjoy all of this, you need to have the right attitude.
So, even if it is cloudy, take that chance, follow the right precautions, invest in the best hiking gear, and you will soon end up with a hiking tour like never before. Remember, your attitude can transform it all, and if you are positive throughout the trip, your experience will certainly be beautiful.
Lookout For Creeks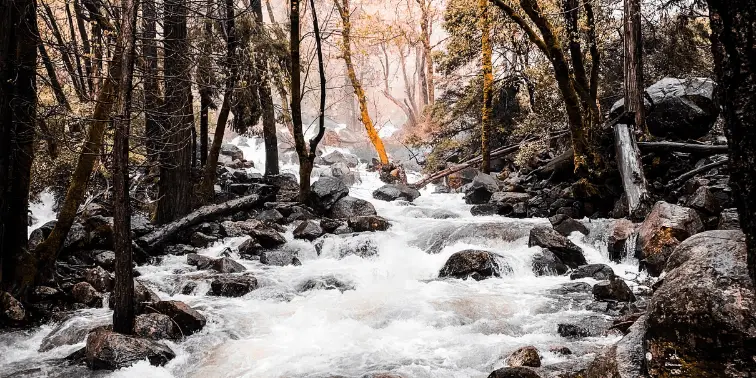 If you are hiking on a misty or a windy day, you need to take proper precautions against the creeks and rivers that you are likely to encounter. Believe it or not, they can be one of the biggest threats. Things tend to be worse when it rains as it is likely to impact the catchment zones of the creeks.
If you stay in dry environments for an extensive period water sheets off the tough soil, and when you are hiking in a windy or moist area, the rain can easily tap into the soil leading to a flooding situation.
Since there is not much visibility during a cloudy day, you need to be extra careful when you are hiking across the trails crossing rivers, and steep areas. In case it looks dangerous or is lined with multiple crossing cuts, it is best to avoid the zone.
Remember, since it is cloudy, there can be an impending rain which will further lead to a dramatic rise in the water levels. That is why it is best to avoid the tricky areas when you're heading for trekking on a cloudy day.
Exercise Proper Caution
In addition to all of these guidelines, you should also exercise proper caution, especially if you are hiking in cloudy weather for the first time. Here are some of the things to consider before making your move:
Slippery Areas: While these are always dangerous, the danger quotient seems to spike up to an exceptional level when you are hiking on a rainy day. If you are crossing muddy or slimy slopes, always take extra caution to make sure you are taking the right steps.
Large Creeks: Always loosen up your hipbelt before crossing large creeks. This way, you can easily get rid of your pack if you accidentally slip at any stage.
Carry The Right Food
Finally, it also makes sense to carry proper food. Since you are hiking on a cloudy day, you are, in a way, anticipating the rain and because it can rain at any point, you won't get the chance of enjoying a family picnic like other hiking trips. That is why it is important to pack just the right kind of snacks. Make sure you are loaded with dry food that can be eaten as you are walking.
This will save time, boost your energy, and also turn out to be simple and non-messy.
Here are a few more Do's and Don'ts:
Do's
• Always carry weather-appropriate food
• Wear a set of waterproof clothes
• Carry a set of waterproof backpack cover
• Be cautious
• Study the trail carefully before heading out
Don'ts
• Avoid taking longer routes
• Avoid moving through creeks and steep areas
• Do not wear cotton clothes
• Do not be messy
• Avoid slippery areas
Final Thoughts
Now that you have a clear insight into the dos and don'ts you should be following, what's keeping you waiting? Just follow our guidelines and you'll soon end up with a safe and truly memorable hiking trip like you always wanted.